Diaries and Planners
Year Compass
yearcompass.com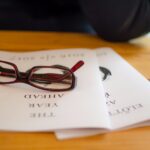 For many, New Year's resolutions will come and go, despite the best of intentions. The fabulous Year Compass Year Planner is free-to-download year planner, asking searching and reflective questions about the year prior, and helps categorise and organise the year ahead.
You can read more about Year Compass in this post on Medium, and follow them on Twitter @YearCompass or on Instagram @YearCompass
Getting Help
ADHD UK – Website including Adult ADHD Self Screening Tool
Adult Children of Alcoholics (ACA) – UK Website
Alcoholics Anonymous (AA) – UK Website.
Support groups throughout the country and across the world, 365 days a year.
Al-Anon (for families and friends of alcoholics) – UK Website
Cocaine Anonymous (CA) – UK Website
Co-Dependents Anonymous (CoDA) – UK Website
Food Addicts Anonymous (FAA) – Website
Gamblers Anonymous (GA) – UK Website
Narcotics Anonymous (NA) – UK Website
Overeaters Anonymous (OA) – UK Website
Sex and Love Addicts Anonymous (SLAA) – UK Website
—
Please check back – more to be added soon.
DL